The newly seated Special Education Committee of the Board met for the first time on Tuesday September 6th starting at 5 pm.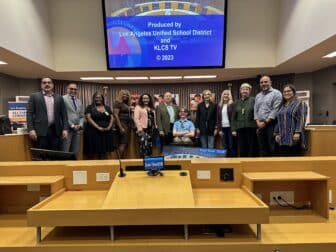 You can watch the English video here and the Spanish video here.
 

We welcomed all the new committee members, gave them a chance to introduce themselves, and heard about their interest in Special Education.

 

We had one presentation by the Division of Special Education, presented by Ms. Kristin Lambert and Ms. Lela Rondeau, on credit recovery programs over the summer and Special Education programs going into the current year. See presentation here.

The committee learned about the SIP Grant through the State of California for training and professional development and increasing inclusive practices training, making them mandatory for all school staff.

Additionally, eight modules are designed to equip special education paraprofessionals with evidence-based practices.

Our next meeting will be on November 1, 2023, at 5 p.m., right here in the LAUSD Board Room.
These are the members of the Committee this year:
Board Members
Mr. Scott M. Schmerelson, Chairperson
Dr. George J. McKenna, III, Board Member
Dr. Rocío Rivas, Board Member
District Members
Deneen Cox, Deputy General Counsel
Dr. Jose Soto, Interim Executive Director of Special Education
External Representatives
Antonieta Garcia, Board District 2 Parent
Lucas Cook, Board District 3 Student
Juan Capdet, Board District 4 Parent
Katie Malloy, Board District 5 Parent
Martha Martinez, Board District 6 Parent
Arlaina Jackson, Board District 7 Parent
Victoria Graf, Professor Emeritus, Department of Teaching and Learning, LMU
Karolyn Maurer, UCLA Graduate Researcher
Kim McLean, Teacher and Instructional
Coach Jamal Whittington, AALA
To learn more about the Special Education Committee go here.