REGULAR BOARD MEETINGS
Board Meetings take place every two weeks on Tuesdays.  The closed session opens at 9 a.m. and the open session opens at 1 pm.  You can watch the meeting live using this link at the time of the meeting – English Español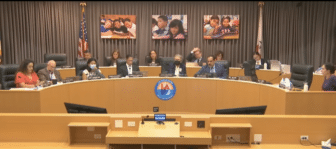 SPECIAL EDUCATION COMMITTEE
The purpose of the Special Education Committee is to inform parents, the school community, and others about the Los Angeles Unified Special Education Local Planning Area's (SELPA's) work on behalf of students with disabilities (which includes Independent Charter Schools that belong to the LAUSD SELPA).
I have been chairing the Special Education Committee of the Board since .  You can learn more about this committee here.
COMMITTEE OF THE WHOLE
As Vice President of the LAUSD School Board, I chair the Committee of the Whole.  The committee meets once a month, on a Tuesday.  You can find the dates on the calendar here.