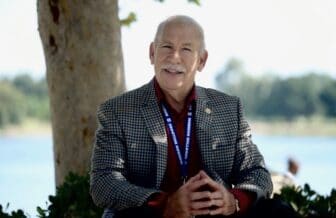 Scott Schmerelson knew when he graduated from high school that he wanted to become a teacher. The first member of his family to attend college, he graduated from Temple University with a B.A. in Foreign Language Education and soon began his career as a high school Spanish teacher in Philadelphia. In 1978, he moved to Los Angeles and joined the LAUSD family.
Scott's commitment and service to the children of LAUSD began with 12 years at Virgil Middle School as a teacher, school counselor and Assistant Principal. He later became an Assistant Principal at Griffith Middle School in East Los Angeles for 5 years and the Principal at Lawrence Middle School in Chatsworth for 5 years. Scott retired as Principal of Johnnie L. Cochran, Jr. Middle School in South Los Angeles after 10 years of leadership that included significantly improving test scores, a deteriorated physical plant, and student, teacher and parent morale.
After almost four decades in the classroom, and school counseling and administration, Scott could not envision a retirement that did not include continuing to advocate for the future of public education in the second largest school district in the United States. In 2014, at the urging of colleagues and community members, Scott decided that he could make a difference for kids and for our neighborhood public schools, which he considers the heart of our communities, by running for School Board.
On July 1, 2015, Scott Mark Schmerelson took the oath of office as the duly elected LA Unified School Board Member representing Board District 3.  He was re-elected on November 3, 2020.
Scott has been a proud member of the Associated Administrators of Los Angeles, United Teachers Los Angeles, and the Philadelphia Federation of Teachers. He also served as the treasurer of the Middle Schools Principals' Association and is currently the treasurer of the Cuban-American Teachers' Association. He is a member of the Association of California School Administrators (ACSA) and served a two-year term as President of ACSA Region 16. He is past Executive Director of Region 16 which encompasses the entire Los Angeles Unified School District.