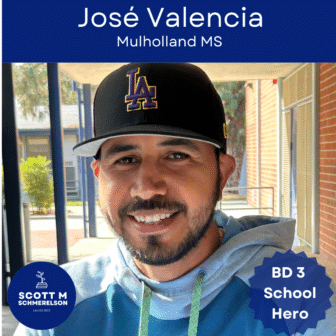 It is no surprise that, although Jose Valencia has just started working as the Plant Manager at Mulholland Middle School, he was nominated as a Board District 3 Hero.  Principal Raquel Segal says this is because Jose treats the school campus as his second home, and that he goes above and beyond to ensure the school has a welcoming, positive, and clean learning environment for students and staff. 
When he was only 18 yrs old, he felt fortunate that he was able to juggle an evening job at the District while acting as a caregiver during the day for his mother who suffered from multiple sclerosis. On top of that, this future Plant Manager was determined to graduate from East Los Angeles College by studying civil engineering, art and architecture.
And while he's only been at Mulholland for a short time, he has been working for LAUSD for 21 years already. He started when he was only 18, but he appreciated getting the evening job because during the day he had to take his mother to the doctor, as she suffered from multiple sclerosis. Still, over the years Jose attended East Los Angeles Colleges studying civil engineering, art and architecture. 
Jose's LAUSD career started 21 years ago. He was a building and grounds worker at Loma Vista ES and eventually promoted to Plant Manager 3, working at many schools across the District. Today, he supervises a group of 15 building and grounds workers and has his own assistant. On weekends, his team deep cleans Early Education Centers. José says: "I get a lot of satisfaction from that work because when we leave, everything looks like it was brand new".
Jose also appreciates his work because he understands how important it is to eliminate any conditions that could be dangerous and to create welcoming environments. "It's important for students", he says, "so that they can focus on studying."
Jose also appreciates his work because he understands how important it is to eliminate any conditions that could be dangerous and to create welcoming environments. "It's important for students", he says, "so that they can focus on studying." Mulholland Principal agrees: "His commitment to excellence, his genuine care for the well-being of the school, and his warm and friendly demeanor, make him an asset to the entire Mulholland community."