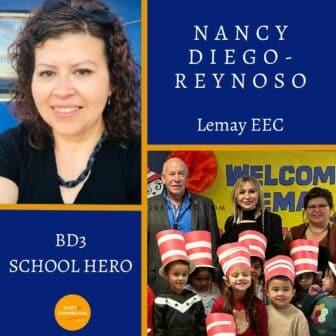 "The children are the reason I get up in the morning; I wake up thinking about how they are waiting for me," says Nancy Diego-Reynoso, this month's Board District 3 Hero.  Nancy is the Head Teacher in a blended Early Education classroom, where her 14 General Education students learn side by side with 7 Special Education and a second teacher.
"I feel very passionate about working with young children this age, 3 1/2 to 5," she adds, "it's the career I chose." Lemay EEC's Principal Edita Kupelian nominated Nancy because 'she regularly is making the impossible possible, with the upmost professionalism; she goes above and beyond our expectations'.
Nancy works hard to ensure students get the support they need, not just from the teachers, but also from each other.  "The kids get tissues for each other, or remind each other where the tissue box is and they remind each other to wash their hands." And she loves to help students see things in new ways.  When one of her students didn't want to use pink when finger painting, she reminded him that 'boys also like pink' and he gladly changed his mind.
Nancy is also very aware that children are listening to every word she says, so she reminds others to always be careful what they say. She tells the story of how one day she mentioned to her co-teacher that her birthday was the following day. The children over heard her, they told their parents, and the next day, they brought her a birthday cake!