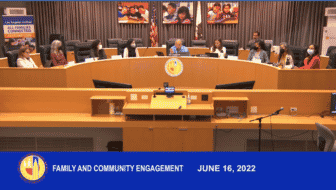 The June Family & Community Engagement Committee meeting began with an overview of the GoPass Fareless Pilot Program. The pilot, which launched in October 2021, allows students to ride public transportation without paying a fare. With a GoPass Tap Card, students have unlimited access to the LA Metro and 12 other transit agencies within LA County through June 30, 2023. Families may pick-up a TAP card for their student(s) at their local school, register it here and activate it by using the card on any bus/train within 30 days of registration. The committee reviewed ridership data by local and board district and provided feedback on how to improve outreach. At present, 17% of LAUSD students have registered for the program. To boost awareness and increase ridership in the 2022-23 school year, the District recently developed a Communications Toolkit for schools and community partners. Visit the site to view and share the sample messages and promotional graphics.
The committee also heard from the Food Services Division. On average, LAUSD serves 140 million meals per year and has annual food purchases of $95 million. Representatives from the Division shared more about the procurement process, different types of kitchens, and nutritional and cost considerations. They further discussed efforts to introduce new and exciting menu items. The Division recently surveyed parents and secondary students, and beginning September 2022, food tastings will be conducted at every school site as part of the Division's efforts to highlight and demystify cafeteria offerings. Families are currently able to view weekly menus on the FSD website and nutritional information will soon be posted as well. The committee also inquired about LAUSD's food donation program and efforts to reduce food waste. The program was paused during the pandemic, but non-profit organizations are now invited to apply for the 2022-23 school year.
Lastly, the committee learned more about LAUSD's COVID-19 Compensatory Education Plan for students with disabilities, before turning to public comment.
To watch the meeting recording and access the presentations, click here.