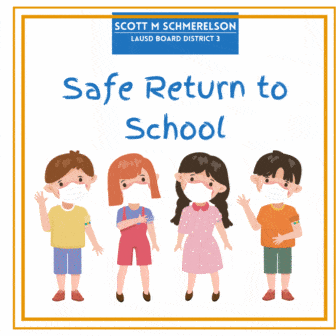 As we approach the new school year, the Board has approved new safety protocols.
Here are a few answer some of the questions you've been asking:
Will masks be required in schools?
Indoor masking is strongly recommended at all Los Angeles Unified schools and workplaces.  All schools have surgical masks available for distribution upon request to any student or employee.
Los Angeles Unified will offer breakfast for students at the start of the school year. In the event students in a classroom are required to wear masks, other breakfast location arrangements will be made.
Will testing be required? If so, which tests?
Weekly asymptomatic COVID-19 testing is no longer required.
Testing will only be required for those experiencing COVID-19 symptoms or those who have been in close contact with a person who has tested positive.
Symptomatic students and close contacts will be provided with an at-home rapid antigen test by their school.
The California Department of Public Health recommends that "antigen tests be considered the primary option for detecting COVID-19 in schools, compared to PCR tests.  The antigen test provides rapid results for individuals who have virus levels that are high enough to transmit the virus. 
Antigen at-home rapid tests will be distributed to all students and staff and should be used within 48 hours prior to entering campus for the first day of school. We will also be distributing antigen at-home rapid tests at the end of the first week of school. All students and staff should also take a rapid test within 48 hours prior to the start of the second week of school.
What happens if a student tests positive while in school?
Students who become symptomatic or ill while at school are required to wear a mask while being treated at the health office and waiting to be picked up by a parent/guardian. School administrators will provide a rapid antigen test kit for the symptomatic student to take home.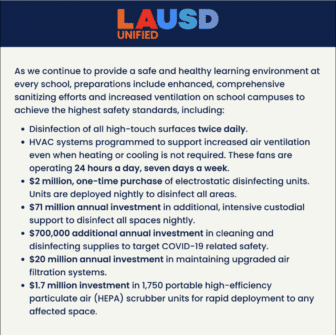 You can find more information here.