This year, I am chairing the Special Education Committee of the Board of Education.
The purpose of the Special Education Committee is to inform parents, the school community, and others about the Los Angeles Unified Special Education Local Planning Area's (SELPA's) work on behalf of students with disabilities (which includes Independent Charter Schools that belong to the LAUSD SELPA).
Special Education Committee met on May 3, 2023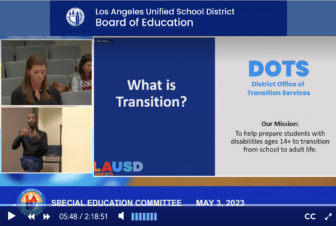 Committee Members
Mr. Scott M. Schmerelson, Chairperson
Ms. Jackie Goldberg, Board Member
Dr. George J. McKenna, III, Board Member
District Members
Deneen Cox, Deputy General Counsel
Alesha Haase, Special Education Administrator
External Representatives
Lisa Bennett, UTLA
Marc Bowman, Board District 5 Parent
Pam Cohen, Decoding Dyslexia CA
Dr. Amy N. Hanreddy, California State University Northridge
Charity F. Johnson, Board District 7 Parent
Nataly Martinez Juares, Student Representative, Van Nuys High School
Gavin Mirigliani-AALA
John Perron, CAC Representative
Carl Petersen, Board District 3 Parent
Jolan Smith, California State University Long Beach
Kelly Bedford, Board District 1, Community Member
When: Meetings will take place the 1st Wed of every other month.
·       September 7, 2022
·       November 2, 2022
·       January 11, 2023
·       March 1, 2023
·       May 3, 2023
Time: 5:00 – 7:00 p.m.
Location: Zoom