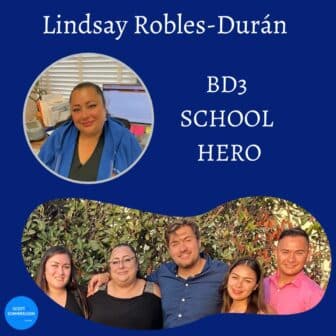 "Lindsay is the heart of Lemay", says principal Long Nguyen. "She leads, supports, helps and cares deeply about the success of our school. She knows our students and their families."
For her part, Lindsay says: "I love our community. How everyone gets along, and how we help each other out. It's a teamwork type of school."
Because of this teamwork and almost familial environment, Lindsay has been able to thrive. She has been at Lemay for 27 years.  Starting out as Teacher's Assistant, she quickly moved on to become an Office Tech, and two years ago, she became the School's SAA.
Principal Long believes Lindsay is a special person who helps everyone else thrive. Lindsay says that it's part of her character to be on time, to give it her all and to share her knowledge with others.
Lindsay is a "product" of LAUSD, having attended Vine Street Early Ed Center and Elementary School, Bancroft Middle School, and culminated from Fairfax High School. After college, she returned to Los Angeles and became a Campus Aide, thereby starting her long career with LAUSD.
Her four kids, who are now adults, all attended Lemay ES. Although still in college, just like her, most of them have found employment at LAUSD. One is a Campus Aide, the other is a Teacher's Assistant, and another is an Instructional Aide.
It goes without saying that Lindsay and her family strongly feel the need to give back to Lemay and LAUSD. Without a doubt, Lindsay is at the heart not just of Lemay ES, but surely LAUSD is in her heart.