FACILITIES IMPROVEMENTS!
Funding for the following projects for BD3 schools was approved:
Roofing for Mulholland MS 

Exterior lunch tables for Bassett ES

Interactive displays for Riverside Charter ES
The Board approved, among others, two resolutions I authored to:
Recognize September as Child Welfare and Attendance Month (Press Release) and the last Tuesday of September as the Pupil Services and Attendance Counselors Day. The District will continue promoting attendance awareness through District websites and social media outlets, conducting home visits, engaging families, and taking action with the Association of Pupil Services and Attendance Counselors (APSAC) to strengthen child welfare in our communities.
Stand With the Families of Maui and Encourage Providing Support and Resources (Press Release) by encouraging those who are able to support the Maui community and their youth as they recover and rebuild, to arrange for a Consolidated Charitable Campaign partner for District staff contributions and to support the recovery and rebuilding of Maui recovery and stand with students and families in rebuilding their homes, schools and communities.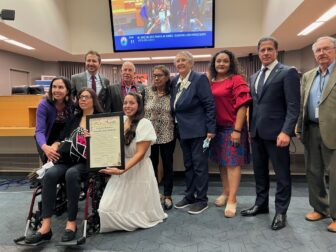 The Board also approved an important resolution to Celebrate Latino Heritage Month in the Los Angeles Unified School District by promoting educational resources on Latino history, culture, and heritage and make them widely available to staff, students, and families online through the District homepage and social media accounts.  Also, all students, staff, and families, are encouraged to commemorate and celebrate the immense historical and cultural contributions that Latino people have made and continue to make here in Los Angeles, California, and the United States.